How to Factory Reset Samsung Galaxy S10/9/8/7 without Password

If you are facing some significant problems like unresponsiveness of your phone or you want to delete all of your data before selling your phone. Then, factory reset your device is what you need to do. The reset operation not just erases the information but resets all the device settings as well.
Samsung Galaxy devices are sophisticated devices but can encounter these problems too. All of the Samsung devices come with this reset feature to solve your problems. In this, we will see a complete guide on how you can factory reset Galaxy S10/9/8/7 without password. Let's keep reading to explore more.
Part 1: How to Factory Reset Samsung Galaxy S10/9/8/7/5 without Password
To factory reset Samsung Galaxy devices without password you can follow PassFab Android Unlocker or common way provided by the Samsung Galaxy, both of them are mentioned below:
1. PassFab Android Unlocker
The PassFab Android Unlocker is the best and unique solution among all others. The PC based solution helps the user to perform a factory data reset to fix major issues.
PassFab Android Unlocker performs a factory reset in only three steps, but first, you should download the software on your computer. After installing, you can follow the steps to begin.
Step 1: When your PassFab Android Unlocker is launched, you will be able to see two options on the screen "Remove Screen Lock" and "Remove Google Lock (FRP)".
Step 2: Choose Remove Screen Lock to continue.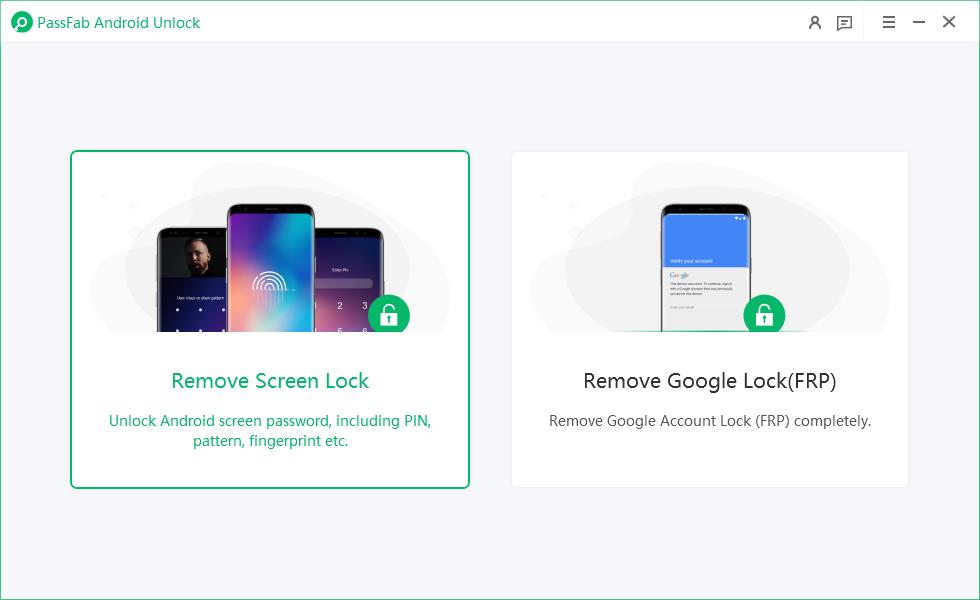 Step 3: Now press the Start button to start the process.
Now the next screen will show a prompt "Removing the lock screen password will erase all data on the device. Are you sure you want to proceed? Yes / No". Click Yes to reset your Galaxy device.
As soon as you hit the Yes, the PassFab Android Unlocker will start its job, and after some time, it will reset your device, and you will be notified with the help of a successful screen message.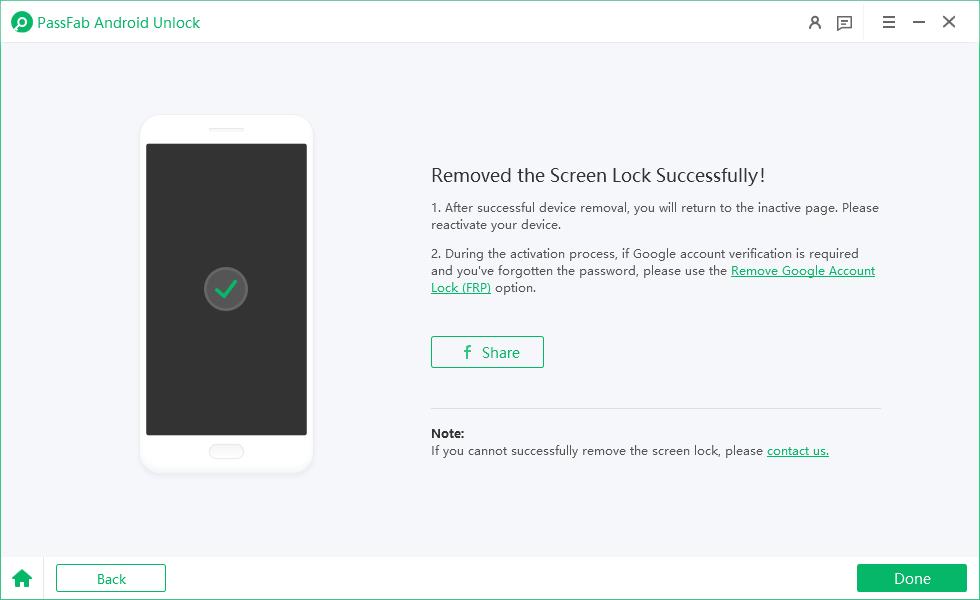 Press did to end the process, and congratulations, you've successfully reset Samsung galaxy device without having a password.
Removing Google Lock FRP on Galaxy S10/S9/S8
The Remove Screen Lock feature of the PassFab Android Unlocker will work fine when your Galaxy device doesn't have Factory Reset Protection. If your device has FRP, you can use a password to perform reset, but if you can't remember your password and you need to reset your device, you can use "Remove Google Lock (FRP)."
The "Remove Google Lock (FRP)" get the work done in the following steps:
Connect Your Samsung Galaxy device to your PC / Laptop.
Enter into Recovery Mode of your device.
Select Samsung Galaxy PDA Info.
Enter into Download Mode (Firmware download).
Remove FRP Lock Google Account.
Please keep that in mind: Do not disconnect your device until the operation is completed
2. Common Way
The most common and manual way that is used by most of the user is:
Press and hold the power button and volume up key as well as the home key altogether
If you are using Samsung Galaxy S10, you need to turn off your phone.
Press and hold the Volume up and Bixby buttons simultaneously, then press and hold the Power key.
A few moments later, you will be able to see the Samsung logo on the screen, and after that, a menu will appear.
Use Volume keys to move through.
Go to Factory data reset and press the power button to select it.
The Factory data reset wizard will reboot your phone, and you will be asked to reboot the phone.
If you are following this method, then you don't need anything: Laptop / PC or Internet or other software solution.
Part 2: How to Factory Reset When Samsung Galaxy S10/9/8/7/6/5 Is Frozen
1. Hard Reset
Press and hold the Volume down and Power button until your device restarts.
When a reset screen appears, use Volume keys to scroll.
Choose Wipe data/Factory reset with Home.
Confirm the choice by pressing the Home button while the control is on Yes
That's it, the process will take some time, and your phone will reset and restart.
2. Soft Reset
Soft reset doesn't affect anything, but Hard Reset will wipe all of your data, so it is recommended to use this method when you are selling your phone.
First, go to Settings.
Look for Backup and reset.
Select Factory data reset.
Scroll down to tap reset.
Upon tap, you will be asked to enter your PIN / Password.
Tap Delete / remove all.
The solution mentioned above will work only when you have PIN / Password of your device, but what happens when you forget your PIN / Password? Don't worry, we have got it covered! Now we will see how to reset without the Password.
Summary
The users widely use the solutions mentioned here: the soft reset doesn't affect your data and reboots your phone while hard reset asks you to provide a password.
If you have locked yourself out or you don't remember your FRP password, then soft and hard reset will not work for you. The only help you will get is PassFab Android Unlocker that works fine and gets the job done without any restriction.